---
Helession's participation to the Food Expo '17 came to an end with mixed feelings of emotion and joy with a climax of satisfaction deriving from the result of our effort, which is of high importance.
It was both great and touching to meet with people that came from all over the world so as to get to know us and our products. And it was surprise and satisfaction the words that characterized our discussions.
Nyktelios… The orange proposal of Helession
The product that admittedly took the spotlight of interest was Nyktelios that was launched for the first time into the market. The oenos of the union of contraries. The "orange wine" that is part of the new international winemaking trend, but is also a category on its own. Knowledge after speech, we must say that noone resisted its …orange glow.
Firstly Nyktelios –and with it, all of Helession's winemaking creations- took down an effort that is being made on a global level by some, to persuade consumers that natural wines do not taste pleasantly…just because they are natural.
Under this hospitable environment, we met with sommeliers, chefs, distributors, consumers and journalists, who got to know our new products and evaluated our older ones, and with whom we exchanged views over the production of food without any chemical intervention –always within the philosophy of natural, biological farming.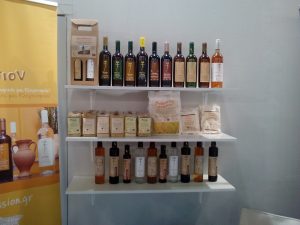 Our visitors tasted our products and expressed with the best of words their positive impressions of the Akratos oenos, Hedylli, Stafylomelo, Oenostagma (wine distillate), but also the organic rice of natural farming, "Ryzeis".
They were especially impressed by the procedure of multiple mixing that depending on each visitor's taste, made the wine lighter with Hedylli, and sweeter with Stafylomelo. We are proud to have given warmth to looks, to have been the cause of sweet smiles.
Like other messengers, we brought a message from the past. We give Greeks –both those living in Greece and abroad- another reason to keep their heads high facing their critics. Because it was our ancestors who knew and taught us how to make wine without chemicals, and we have not forgotten after all.
Because "ευ ζην" (to live well) is a Greek word!